West Cork has some of the best Blue Flag beaches in Ireland, several of them within comfortable driving distance. At first sight Baltimore itself does not look like a beach resort, but for those in the know there are superb, unspoilt, but less well-known beaches on Sherkin and Heir islands, with safe bathing, golden sands and — except on very rare occasions — no crowds.
Alternatively, there are rocky beaches, safe for swimming around high tide (subject of course to wind & weather) all within 2km of Baltimore's Square - The Cove, Coney Island, Tranadroum, Trafraska, the Lifeboat Beach. Pick up a tourist brochure which marks these spots). Never swim alone and do not jump off rocks or piers as we have a tidal range of close to 4 mtrs and you may not know the depth of water or the tides that affect the location !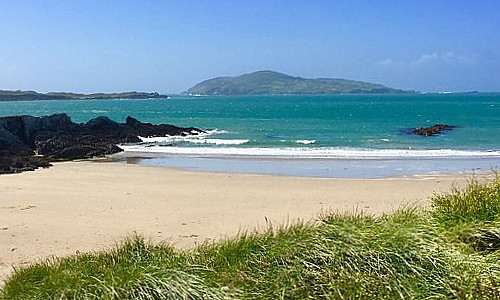 Sherkin and Cape Clear islands can both be reached by a short ferry ride across the harbour from Baltimore pier. For Heir Island travel to Cunnamore Pier.