You cannot land on the Fastnet Rock, but boats can get near enough to give passengers a close-up view of the rock and its majestic lighthouse, sweeping upwards from the water's edge. It has been called the most beautiful lighthouse in the world and it is certainly one of the most famous. From a boat you can gaze upwards at the 60 metre tall granite tower and marvel at the feat of engineering required to put it there. The massive 20-ton lens of the light is clearly visible, revolving night and day in its bath of mercury. Hundreds of seabirds jostle along the ledges of the lighthouse and the rock itself, while seals pop their heads up amongst the surf.
From Baltimore the route to the rock takes you past the cliffs of Sherkin and Cape Clear, the latter surmounted by the tower of the old lighthouse which the Fastnet replaced a century and a half ago. And there is a good chance of seeing whales or dolphins along the way.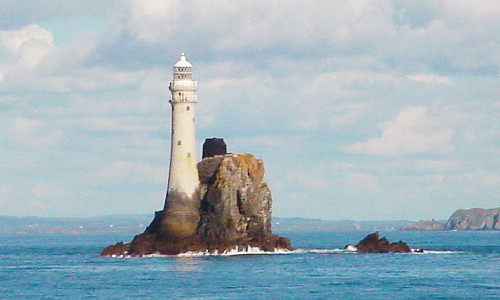 At busy times some charter boats run regular trips around the rock from Baltimore. At other times boats can be chartered to take groups there on request. You might also go there in the course of other activities as the waters around the rock are a favourite spot for anglers, divers and whale watchers.