I know a lake where cool waves break,
And softly fall on a sylvan sand,
And no steps intrude on that solitude,
And no voice save mine disturbs the strand.
Lough Ine, Fitz James O'Brien (1826-62)
Just six kilometres from Baltimore, few places capture the magic of West Cork better than Lough Hyne, or Loughine as it is sometimes spelled. The lough is entirely landlocked, except for a narrow channel in one corner, the Rapids, where water races in or out according to the sea level outside. At first sight Lough Hyne has all the appearance of a tranquil freshwater lake, which it probably was once before it was flooded by the rising sea. Woods fringe the water's edge along the western shore and the forested slopes of Lough Hyne Hill, or Knockomagh, rise up to the north. The lough is about 60 hectares in area and 50 metres deep. There is little rise and fall of tide, but the water is salt and the flora and fauna are those of the sea.
The unique environment is home to an incredible variety of invertebrates, fish and plants — including more than 100 sponges, 24 kinds of crab, 18 species of anemone and 72 kinds of fish — some of them found nowhere else in Ireland. It has been the object of scientific study for well over than 100 years and in 1981 was designated Ireland's first and only Marine Nature Reserve.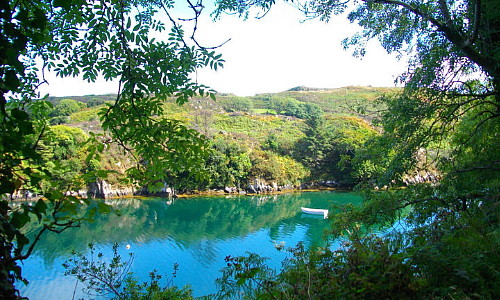 There are holy wells and near the lakeside a ruined church of St Bridgit. The small island in the centre of the lough with its barely discernible ivy-covered ruin is where the outcast Sir Fineen O'Driscoll ended his days. The discovery of a Viking brooch there in 2002 adds another intriguing dimension to the lough's history. The island is also popularly associated with the folk tale of Larry Long-Ears (the king with donkey ears). Today the lough, being almost entirely sheltered from strong winds, is popular for swimming, kayaking and diving (with permit from the Parks & Wildlife Service). The lanes beside the lough and the trails up Knockomagh are favourites for walking.